Welcome to the SwitchTours page where I'll keep you updated on when Switchfoot's going to be on tour in your area as well as write reviews or post your reviews of Switchfoot's concerts!
September 27, 2003 - The Pound, San Francisco
I almost didn't get to this one, but due to the magic of Ben, we made it. We arrived about five hours early to try to scrounge up some tickets and managed to get some. So we waited there and the line got way long in a fairly short amount of time. By the time the show started, there were way more people there than could possibly fit in the venue. About a hundred people ended up standing outside the doors watching the concert from outside. Opening bands Bleu and Sleeping At Last were both splendid. Unfortunately, Bleu's singer had laryngitis and lasted about four songs before having to leave the stage. Switchfoot, however, was in good health and rocked the face off the place. I got the set list, which I swear I will scan at some point. It was written on a paper plate.
June 12, 2003 - The Pound, San Francisco
With my pals Benno, Jason, Kristen, and Chelsea, I ventured into the City to one of mine and Ben's personal favorite venues: The Pound. Our mission: to see our dear Switchfoot. Considering the other times we'd been to the Pound the crowd was very small, we were shocked to see the turnout for the Switchfoot show. An amazing band called Fiction Plane opened for them. Yes, they are indeed the band you've seen on MTV's You Hear It First. And yes, the lead singer is Sting's son. Good times. Switchfoot rocked the casbah in a big way. Jon, displaying amazing stage presence, swung from the rafters, offered his mic to the audience, sang into his guitar creating interesting feedback, and generally got everyone riled up. All in all a quality show.
September 1, 2001 - Jesus Shack, Modesto
Can I just say, WoW! By far the best Switchfoot show I've been to so far! I was a little hesitant about driving for two and a half hours to go to a concert, but hey. It's Switchfoot so of course I went for it. My little sister, my friend Nick, and I arrived at the show near the end of a band called Return's set. Return is totally awesome and you should check them out at www.return2jesus.com. Then a band called Johnny Come Lately played (www.johnnycl.com) and they were really good too. If you like Weezer, check 'em out. As Switchfoot was setting up, Nick and I were getting extremely psyched. At one point it was really quiet and we yelled "Hi, Tim!", which completely surprised him but it was classic. There was so much energy in the show that it got the entire crowd pumped up. At one point, Jon Foreman jumped off the stage right in front of me and I almost had a heart attack. We talked to them after the show and they signed Nick's shoe. I got to ask Jon a pressing question that I'd been wondering about forever. We also met the two other bands and, guys, they're just wonderful people. Excellent, excellent show.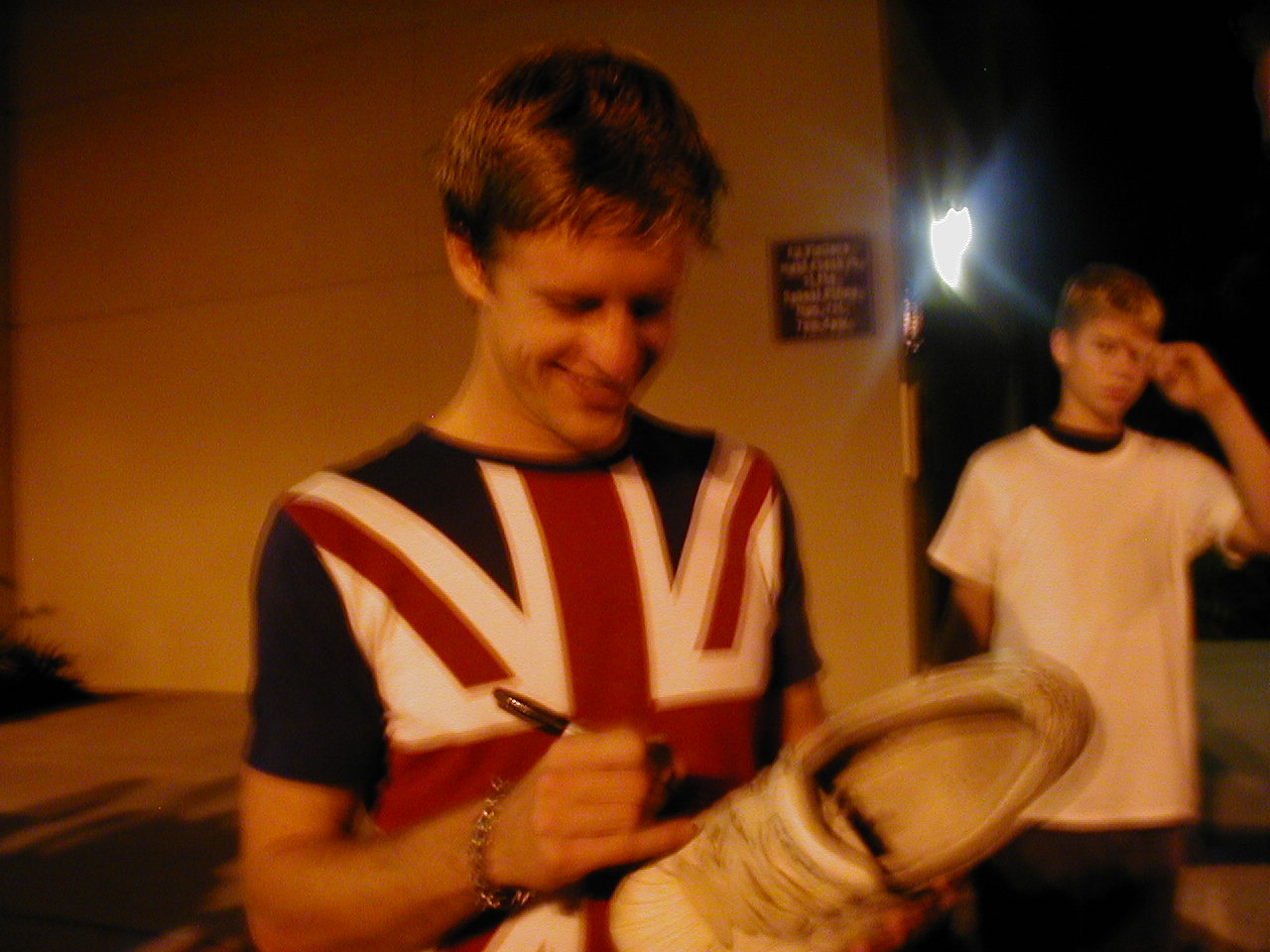 March 3, 2001 - Crosswinds Church, Dublin
This concert was part of the Loud and Clear tour and, if you ever have a chance to go to a Loud and Clear show, you should definitely take it. In case you don't already know, it's a tour with Supertones, Switchfoot, and Relient K; three totally awesome bands. Switchfoot opened with a song that I recognized but wasn't by them so I couldn't tell you what it is. Jon was wearing a wonderful cowboy hat, but he eventually got rid of it. As was to be expected, the show was totally awesome and Switchfoot rawked. Unfortunately some woman in front of us kept pushing us over and I ended up cutting my leg when she pushed me over a pole, but we made up for it by singing the lyrics to Poparazzi especially loud, just for her... right in her ear. Heehee. My friend got to dance onstage with the Supertones. Hoodiehoo!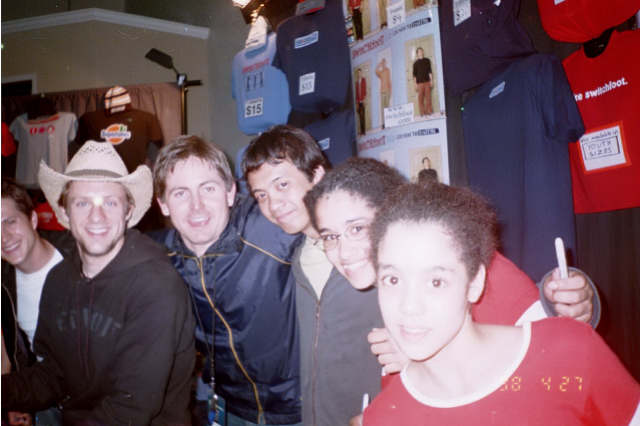 December 16, 2000 - Voice of Pentecost, San Francisco
I had never seen Switchfoot in concert before and I can't say that I was really expecting too much, but the show was fantastic! The opening act was an upcoming band called Fluid who totally rocked beyond belief, and I've definitely gotta give 'em props for being able to still convey a Christian message over the loud music. Switchfoot came onstage and everyone was on their feet, including an enthusiastic guy in a yellow shirt by the name Nick. Nick eventually ended up singing with Jon and I thought I saw him sneak off backstage at the end of the show. In the middle of the concert, Jon asked us [the crowd] if we wanted to sing, and then played several worship songs that the entire crowd knew and could sing along to. I've been to loads of concerts before, but this was definitely the best one I've been too.

Upcoming Shows




03.31.04

Oklahoma City, OK, USA

Fritzis Music Hall


405-947-1430

04.01.04

Houston, TX, USA

Engine Room


04.02.04

Austin, TX, USA

Texas Union Ballroom


512-475-6515

04.03.04

Dallas, TX, USA

Gypsy Tea Room

214-373-8000


04.04.04

Lawrence, KS, USA

Liberty Hall


785-749-1972

04.05.04

NYC, NY, USA

MTV TRL

04.06.04

St. Louis, MO, USA

Pagent Theater

314-726-6161

04.07.04

Iowa City, IA, USA

UI Memorial Union


319-335-3395

04.08.04

Minneapolis, MN, USA

The Quest

612-338-3383

04.09.04

Chicago, IL, USA

The Vic


773-472-0366

04.10.04

Grand Rapids, MI, USA

The Orbit Room

616-942-1328

04.12.04

Columbus, OHI, USA

Newport Music Hall

614-358-ROCK

04.13.04

Pontiac, MI, USA

Clutch Cargos

248-333-2362

04.14.04

Toronto, ON, CAN

Kool Haus


416-869-0045

04.15.04

Montreal, QUE, CAN

Club Soda

514-286-1010


04.16.04

Worcester, MA, USA

The Palladium

508-797-9696


04.21.04

New York City, NY, USA

Irving Plaza

212-777-6817

04.22.04

Wilmore, KY, USA

Ichthus Festival

859-858-3001


04.23.04

San Antonio, TX

Mix 96.1 Fiesta Festival 2004 - Sunken Gardens




04.24.04

Philadelphia, PA, USA

Electric Factory

215-LOVE-222


04.25.04

Baltimore, MD, USA

Recher Theatre

410-337-7210


04.26.04

Norfolk, VA, USA

The Norva Theatre

757-627-4541


04.29.04

W. Palm Beach, FL

SunFest NON-TOUR DATE

n/a

04.30.04

Nashville, TN. USA

Nashville River Stages NON-TOUR DATE

n/a

05.01.04

Memphis, TN, USA

Beale Street Music Festival NON-TOUR DATE

n/a

05.02.04

Atlanta, GA, USA

Music Midtown NON-TOUR DATE

n/a

05.05.04

Jacksonville Beach, FL

Freebird Live

800-594-TIXX

05.06.04

Tampa, FL, USA

Masquerade

813-287-8844


05.07.04

Orlando, Fl, USA

Cornerstone Festival

773-989-2087


05.09.04

Charlotte, NC, USA

Cityfest Live

n/a

08.07.04

Denver, CO, USA

Pepsi Center

n/a


Festivals

04/22 - 04/24/04
Ichthus Festival
Ichthus Farm
Wilmore, KY
05/07 - 05/08/04
Cornerstone FL 2004
Central Florida Fairgrounds
Orlando, FL

06/23 - 06/26/04
Creation Festival - East
Agape Farm
Shirleysburg, PA

07/01 - 07/04/04
Cornerstone Festival 2004
Cornerstone Farm
Marietta, IL

07/21 - 07/24/04
Creation Festival - West
The Gorge Amphitheatre
George, WA