Halfway to Nowhere
I probably spend way too much time listening to/thinking about/stalking the three aweshum guyz that make up the band Halfway to Nowhere; Andrew Capra, Hugh Hunter, and Geoff Peters. I believe it was late August 2001 when I first heard them, though I'd been hearing about them for who knows how long 'cause Nick was constantly talking about how great a drummer Geoff is. Geoff was the first one of them I met and he made a... uh... lasting impression with his role in a video we made for our friend. I met Andrew a little later who made his impression on me with a latex glove (moo). And I also met the world's biggest Halfway to Nowhere groupie, Carolyn, the same day I met Andrew. She's awesome and yeah. Halfway to Nowhere rawks.
Official Halfway to Nowhere Site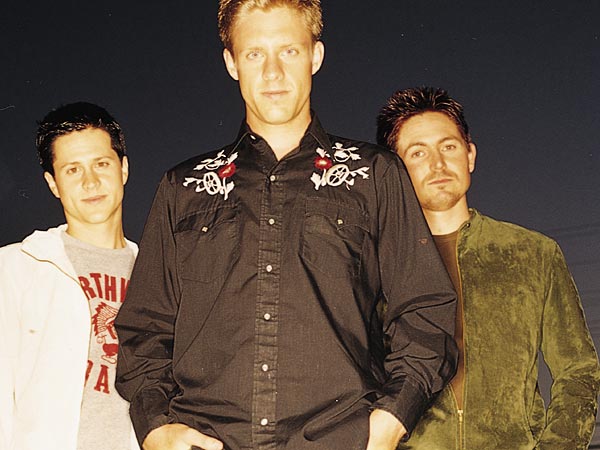 Switchfoot
My faaaaaavorite band. Safe to say I'm obsessed. Heehee. I've only gotten to see them three times but hopefully will see them about a billion and two times more. I have a website about them which is prob'ly the most extensive of any of my fansites. I just think they're the coolest band around and the guyz are totally nice, especially Jerome who always goes out of his way to be cool to me and my sister. And Jon who puts up with me forgetting my name and is willing to talk to me. And... well, they're all greatness. Sheesh.
My Alter Ego: taken_exnihilo
Andrew explained to me that the word "exnihilo" means "out of nothingness" (and sure enough it's in the Bible as such). So immediately I thought that it was basically the coolest word ever to grace Webster's dictionary and decided I could do something with it. Thus my Internet alter-ego, taken_exnihilo - or t_e - was born. And in case you weren't sure, putting those two words together = "taken out of nothingness." Pretty nifty, eh? Well I certainly thought so.